Contrary to Popular Belief, the American Textile Supply Chain is Growing
28 Apr,2019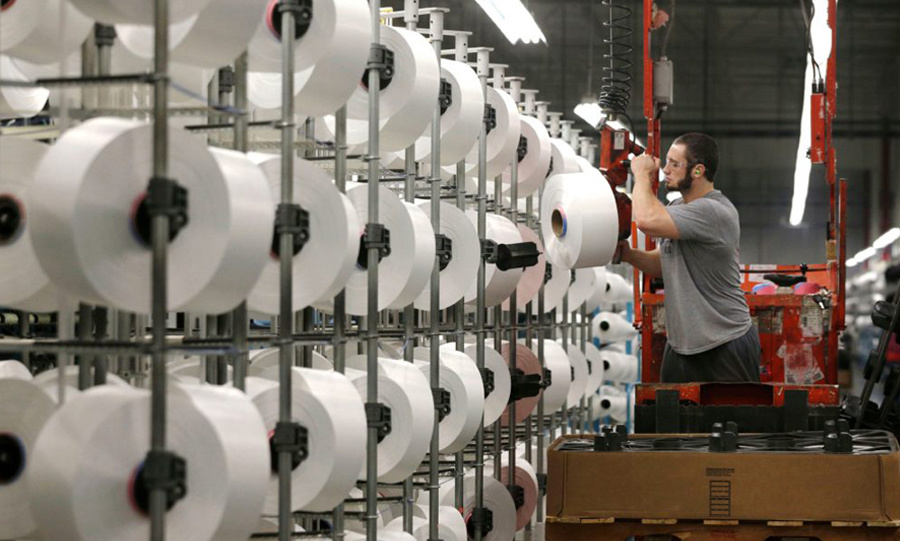 Made in America is ramping up where textiles and apparel are concerned.
The value of U.S. textile and apparel manufacturing increased 12 percent in 2018 to an estimated $76.8 billion compared to output of $73 billion the previous year, the National Council of Textile Organizations (NCTO) said in its annual state of the industry report.
U.S. exports of fiber, textiles and apparel were $30.1 billion in 2018, a 5.4 percent gain from $28.6 billion 2017, NCTO reported. Capital expenditures for textile and apparel production totaled $2 billion in 2017, the last year for which data is available. Investment in fiber, yarn, fabric and other non-apparel textile product manufacturing was up 79 percent to $1.7 billion in 2018 from $960 million in 2009, when industry production began a slow turnaround.
"Thanks to its productivity, flexibility and innovation, the U.S. textile industry has cemented its position in the global market,"NCTO chairman Marty Moran said. "The United States is especially well-positioned globally in fiber, yarn, fabric and non-apparel sewn products markets–it is the second largest individual country exporter of these products in 2018."
Moran, who is also is CEO of Buhler Quality Yarns, Corp., a fine-count yarn supplier headquartered in Jefferson, Ga., noted that shipments to the countries of the North American Free Trade Agreement (NAFTA) and Central American Free Trade Agreement accounted for 47.5 percent of textile supply chain exports. Cotton and wool exports hit $6.7 billion last year, yarn shipments were $4.4 billion, and $9.1 billion worth of fabrics were exported.
The U.S. textile industry's commitment to capital re-investment and a continued emphasis in quality and innovation make it well-positioned to adapt to market changes and take advantage of opportunities as 2019 moves along," NCTO said.
Moran said NAFTA has been an important pact for the U.S. textile sector and NCTO supported the effort to modernize it, which resulted in the U.S.-Mexico-Canada Agreement (USMCA). As Moran noted, NCTO advocated for such areas included in the pending pact such as maintaining the yarn forward rule, a reduction of minimum tariff preference levels and strengthening customs enforcement.
"The USMCA represents a demonstrative improvement for U.S. manufacturers of component parts such as thread, pocketing,narrow elastics and coated fabrics," Moran said. "These items will have stronger origin requirements under the new agreement that will certainly boost sales to North American customers."
On the U.S. Section 301 trade case against China's intellectual abuses, Moran said while NCTO generally supports "finally tackling China's illegal trade practices, some products selected have negatively impacted our membership." He cited dyes and chemicals used in the textile manufacturing process, which have resulted in higher costs, as one example.
"Overall, the vast majority of products identified for penalty tariffs in our sector have been inputs and we think a major opportunity is being missed by this approach," Moran said. "Selecting finished goods, which generally contain 100 percent Chinese fiber, yarn and fabric components, would create benefits throughout the U.S. supply chain."
The NCTO has called for government investment in improving automation in apparel manufacturing, which Moran said, "shows promising potential to reshore U.S. textile and apparel production jobs."
Employment in the textile and apparel supply chain rose to $594,147 workers in 2018 compared to 550,500 the prior year. This came even though factories have become more automated, and many jobs have been converting to technology-oriented positions sometimes not even classified as textile or apparel jobs from more hands-on spots like sewing machine operators.
---
reported,considering,selection