Prioritize Your 'Hot List': Logistics Expert Rattles Off China Lockdown Workaround.
21 Mar,2022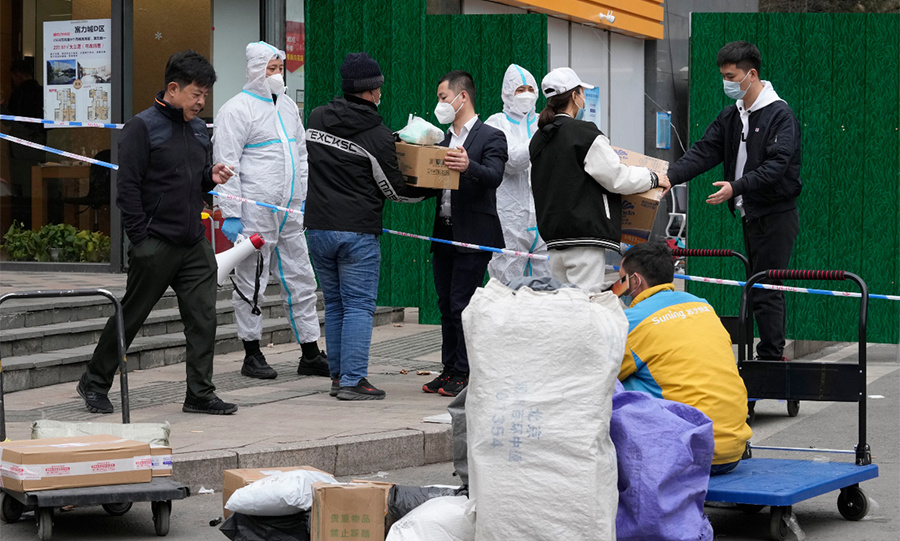 Logistics giants Seko and Geodis warned shippers of the impact from new China covid lockdowns affecting freight operations around Shenzhen.
Workers collect deliveries for a locked down community on Sunday, March 13, 2022, in Beijing. The number of new coronavirus cases in an outbreak in China's northeast tripled Sunday and authorities tightened control on access to Shanghai in the east, suspending bus service to the city of 24 million and requiring a virus test for anyone who wants to enter.
Shippers are being warned of the impact of China's zero-Covid policy, which sent millions in the country into lockdown over the weekend and sparked a fresh wave of supply chain concerns.
China's National Health Commission reported Monday 1,437 new cases in mainland China, which is roughly quadruple the number of new cases reported a week ago. Shenzhen, Shanghai, Dongguan and Jilin province are in various states of lockdown as the 1.3-billion-strong country looks to contain the flare-up.
State media reported Chinese Vice Premier Sun Chunlan during a Saturday meeting with state officials called for strict measures to stem the latest outbreaks, including nucleic acid testing, antigen screening and quarantines.
"With lockdowns impacting both Shenzhen and Shanghai, sourcing teams should plan to go back to a situation where every order is treated as an exception case," Brian Glick, CEO of supply chain integration platform Chain.io, told Sourcing Journal. "Close collaboration with vendors and freight forwarders is key—with passenger fights being diverted and potential airport shutdowns in play, falling back to airfreight may not be feasible. Make sure you're clearly prioritizing your 'hot list' with all partners so you can make sure you get the highest priority goods out with the space you can secure."
The Port of Shenzhen, an umbrella name given to multiple ports running along the coast, is considered one of the world's busiest with trade routes to more than 300 ports located in more than 100 countries.
Shenzhen, with a population of about 17.5 million, is now conducting three rounds of mandatory testing through Sunday, according to a government website. Residents were told to stay at home in an announcement Sunday that took effect immediately, while public workers were told to work from home. Public transportation has ceased. Workers selling water, electricity, fuel or other essentials are exempt from the stay-at-home order. All other businesses are closed.
Shenzhen is also home to a number of electronics manufacturing facilities, such as Apple supplier Foxconn. Reuters reported the company has shuttered some operations in response to the stay-at-home order.
Transport and logistics firm confirmed Monday the closure of its Shenzhen warehouse, with employees working from home. Truck transport continues, but there are fewer available drivers due to the shelter-in-place order. Meanwhile, because factories in Shenzhen and Dongguan have been closed, containers are not being filled or delivered to ports.
As the outbreak of omicron across China worsens, local authorities are enforcing restrictions, which will have an impact on our offices, warehouses and operations. The Yantian Free Trade Zone will be closed through March 20, the transport and logistics company said.
Loaded ships will leave the port as planned, but cargo will not be loaded next week. Cargo moving between Shenzhen and Hong Kong has been stopped, with the exception of essential goods.
---
reported,considering,selection